Alumni Interaction Session
The Department of Computer Science, Baba Farid College organized an "Alumni Interaction Session" on dated 05-03-18 for students of BCA and M.Sc.(IT) ,whose first preference is placement in reputed companies.
In this session, Mukal Chhabra, who is placed in MobiLyte and Alumni of Computer Science department (Session-2014 BCA Passout),BFC shared his experience about companies and told about basic requirements of IT industry.
Ramandeep Kaur, who is working as PLSQL developer Infosys , Chandigarh and alumni of Computer Science department (Session-2015 BCA Passout), BFC talked about working environment of company and type of skills required for placement. She motivated the students to get good communication skills and strong catching in their subjects.
During the session, students asked questions about what type of technical skills demanded by company and what type of preparation is required to get placed in dream companies.

BFC organised an alumni meet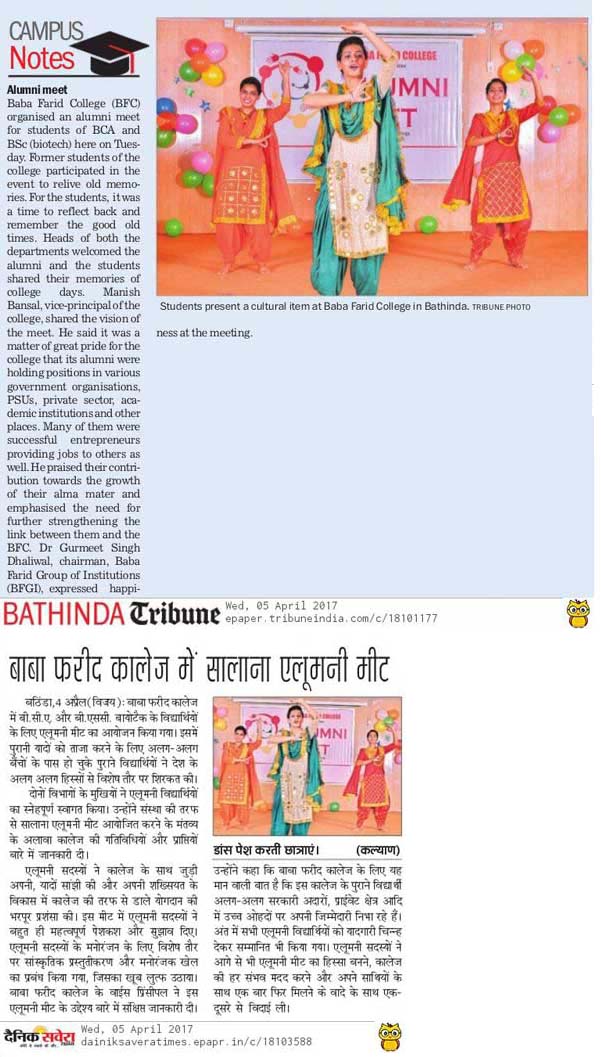 Alumni meet organized by Computer Science Department (BFC)
Greetings…!! It's indeed pleasure to inform you that Computer Science Department of Baba Farid College, Deon has organized First Annual Alumni Meet on Sunday, 14th July 2013. To be in synchronization with all the proud alumnus of our college who are shining high worldwide through their innovative technological contributions. We were more than happy to receive such a positive response from the alumnus and 60 alumnus attended this meet.