1st Alumni Meet on July 17, 2017
1st Alumni meet of Baba Farid College was organised by the Department of English, History and Political Science on July 17, 2017 at Main Seminar Hall, BFGI. It was inaugurated with the lighting of lamp and was followed by cultural programme like 'Shabad' (a religious song). The occassion was graced by the benign presence of almost 100 alumni of various batches. Mr. Kulwinder Singh Sra welcomed the alumni with great zeal and enthusiasm and delivered an inspiring speech.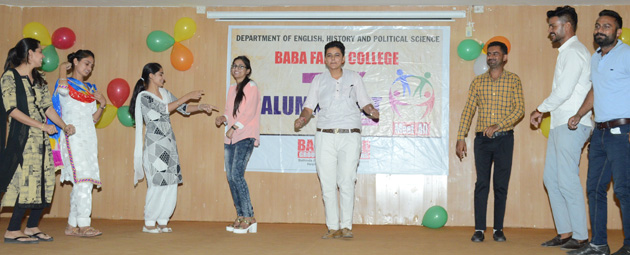 The Alumni shared their experiences and future plans. The PPT Presentation made them nostalgic and relive the old memories with their batchmates, seniors and juniors. They also interacted with their mentors and also thanked them for enlightening their path with wisdom and knowledge. Alumni also participated in various games like paper dancing etc. and the winners were given momento. Everyone enjoyed a lot and had great fun. Finally Alumni meet was a doorway to cherish the golden moments of old times and talk about experiences and future plans.