2nd International Conference Food Security, Nutrition & Sustainable Agriculture - Emerging Technologies ICFNSA-2019
A three-day international conference on "Food Security, Nutrition and Sustainable Agricultural-Emerging Techniques" which was jointly organised by Baba Farid College and IIFPT in collaboration with Society of Pharmacogognosy and Phytochemistry was organized at Baba Farid Group of Instiutions (BFGI).This 3 day International conference from February 14-16, 2019 was sponsored by the Ministry of Food Processing Industries, Government of India. The Chief Guest of Valedictory function of this conferene was Smt. Harsimrat Kaur Badal, Union Cabinet Minister, Food Processing Industries, Government of India and Dr. C. Anandharamakrishanan, Director, IIFPT, Thanjavur (Tamil Nadu) was Guest of Honour.
Chief Patron of the conference & Chairman of BFGI, Dr. Gurmeet Singh Dhaliwal warmly welcomed the Chief Guest, dignataries, delegates, Agricultural experts, Agri Scientists, Progressive Farmers researchers, and students. He said that more than 300 delegates from 5 countries and 15 states of India participated in this conference. More than 500 students and research scholars have read the papers in this conference. More than 250 research papers were received in this conference, out of which 155 research papers will be published in the journal of the Society of Pharmacogognosis and Phyto-Chemistry. He assured that this international conference would be very helpful in finding optimum practical solutions to overcome the challenges of the field of Agriculture and Food Processing.He also highlighted the achievements of BFGI students in different fields. On this occasion, on behalf of BFGI Dy. Director (Academics) Dr. Pardeep Kaura exchanged MoU's with different Industries and Sector Skill Councils like IIFPT, Biocarve Seeds, Perennial Foods, KUKVC etc.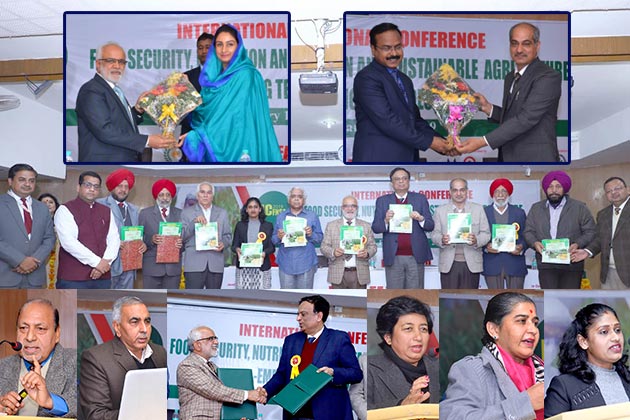 Chief Guest of the Valedictory function Smt. Harsimrat Kaur Badal, Union Cabinet Minister, Food Processing Industries, Government of India highly appericiated this effort of BFGI to organised such International conference. She congratulated the management of BFGI for their achievements in various fields. She said that food processing is directly related to agriculture and it is an area which has many job opportunities. Referring to the achievements of the Ministry of Food Processing, She said that after opening of Mega Food Park in Punjab, the incubation and training center of IIFPT has been opened in Bathinda where farmers and students are being trained to adopt food processing techniques so that the dream of Mr. Narendra Modi, Honorable Prime Minister of India can be realized to double the income of the farmers. He said that by paying attention to the processing of crops like potato in Punjab, the income of the farmers could be increased. She invited the students to become entrepreneurs by processing agro products instead of running follow the jobs and contributed to the nation's progress. She called upon the students and teachers to take advantage of giving grants related to the field of food processing.
Speaking on the occasion, Dr. C. Anandharamakrishanan, Director Indian Institute of Food Processing and Technology, Thanjavur (Tamilnadu) said that he wants BFGI to introduce food technology courses and he expressed their desire to provide training, faculty and international facilities in the field of Food Technology. So that both the institutions can work together for benefit the people, farmers and students of the area.
Earlier, in the 'Agriculture Entrepreneurship Summit', Under the panel of Professor of BFC, Dr. G.S. Mahal (Former Director Seeds, PAU, Ludhiana ), Dr. Alahrang (Managing Director, Biocarve Seeds, India), Dr. R.K. Gumber (Director, Ankur Seeds, Sri Ganganagar), Dr. Uma Saini (MD, Agri Care Organic Farming, Ludhiana) and Dr. Savita Sharma (Principal Scientist, Food Technology, Punjab Agricultural University, Ludhiana) discussion were done about seed production, marketing of agricultural seeds, problems related to organic farming, seed production and their solutions besides Scope of food processing and products, Funding agencies , startup entrepreneurship, quality control and startups for the food processing industry also discussed. During this conference, the successful progressive farmers who came to visit during the conference shared their experiences and gave valuable suggestions on increasing agricultural production and reducing wastage. Prizes were also distributed to delegates and students who win poster presentation competition and oral presentation competition on different 6 themes during this conference. PHOTO GALLERY Click here...
1st International Conference on "Crop Productivity & Sustainability-Shaping the Future"
An International Conference regarding the topic on "Crop Productivity & Sustainability- Shaping the Future" was organised by the department of Agriculture, Baba Farid College, an important constituent of Baba Farid Group of Institutions (BFGI) on 20th & 21st March in 2014 with an aim to give comprehensive information regarding the modern agricultural technologies in respect of crop quality and food security. More than 250 delegates from different states of India viz. Punjab, Haryana, Mizoram, Karnataka, Maharashtra, Rajasthan, West Bengal etc. and 12 eminent scientists from Pakistan attended the conference. More than 300 abstracts were received, out of which more than 100 best were selected and published. Various scientists presented their research findings at two different venues in different session. Various eminent luminaries of agriculture like Dr. Khem Singh Gill, ex. Vice-chancellor, Punjab Agriculture University, Ludhiana; Dr. Baldev Singh Dhillon, Vice-chancellor, Punjab Agriculture University, Ludhiana; Dr. Jamsheed Ali Khan, Dean, college development council, Punjabi University, Patiala; Dr. Shahzad Basra, Professor & Chairman, University of Agriculture, Faisalabad, Pakistan; Dr. Abdul Wahid, Professor & Chairman, University of Agriculture, Faisalabad, Pakistan; Dr. Zahid Ata Cheema, retired Professor, University of Agriculture, Faisalabad, Pakistan were present to grace this event. Dr. G. S. Mahal, organizing secretary and Dr. Gurmeet Singh Dhaliwal, M.D., BFGI, formally welcomed all the delegates. The vision of the conference was to increase the interest of BFGI students and staffs about agricultural research studies. The conference ended by honouring the luminaries and delegates who had spent their precious time sharing the knowledge and experience with the students and staff of BFGI. PHOTO GALLERY Click here...