BFC becomes University Champions 2nd time in a row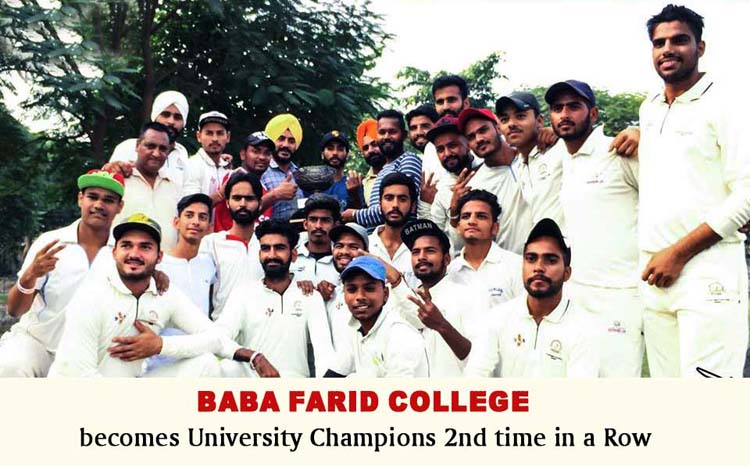 Baba Farid College won Zonal Cricket Tournament
The Zonal Cricket Tournament which had been organized from November 1 to 7 by Punjabi University Patiala successfully concluded today at the playground of Baba Farid College. In the final match of this tournament, the team of Baba Farid College won the match and become winner of zonal cricket tournament. It is worth mentioning that 14 teams from various colleges affiliated to Punjabi University, Patiala was participated in this tournament.
First semifinal match of the tournament was played between the teams of Nehru Memorial Govt. College, Mansa and SD College, Barnala in which SD College Barnala won the match. Second semifinal match was played between the teams of Baba Farid College Bathinda and DAV College Bathinda. During this match Navkiran Sharma of BFC played very well and contributed 50 runs on 21 balls. Due to his excellent performance, the team of BFC won this semifinal match.
Today, Final match of last day was played between the teams of Baba Farid College Bathinda and SD College Barnala. At the start of the match, team of SD College Barnala decided to batting first by winning the toss. The players of SD College Barnala played brilliantly and scored 108 runs in the allotted 20 overs. The players Naman & Vijay of Baba Farid College also played the best innings and completed this goal in 17 overs with seven wickets. Due to this, team of BFC become winner of Zonal Cricket Tournament. It is worth mentioning that BFC team will shine the name of college in coming soon Inter Zonal cricket tournament of Punjabi University, Patiala.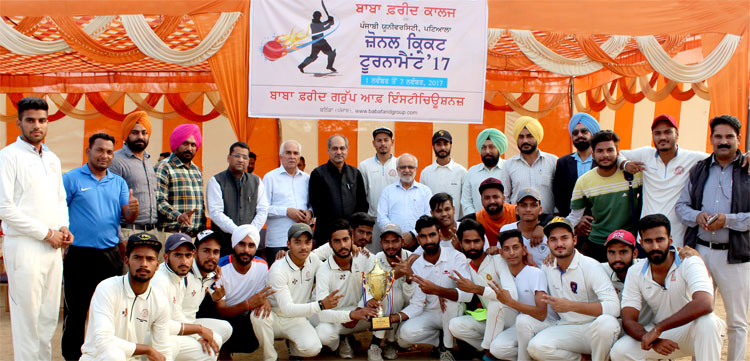 Cricket Tournament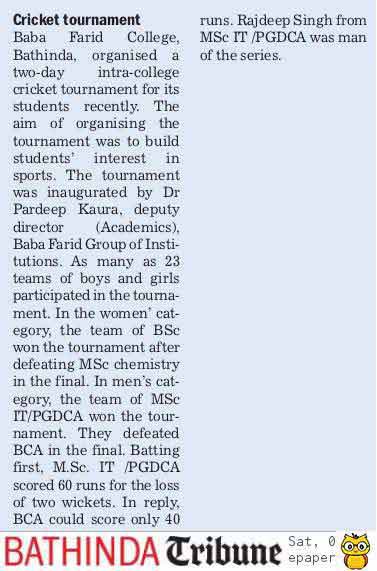 Students on winning spree in national c'ships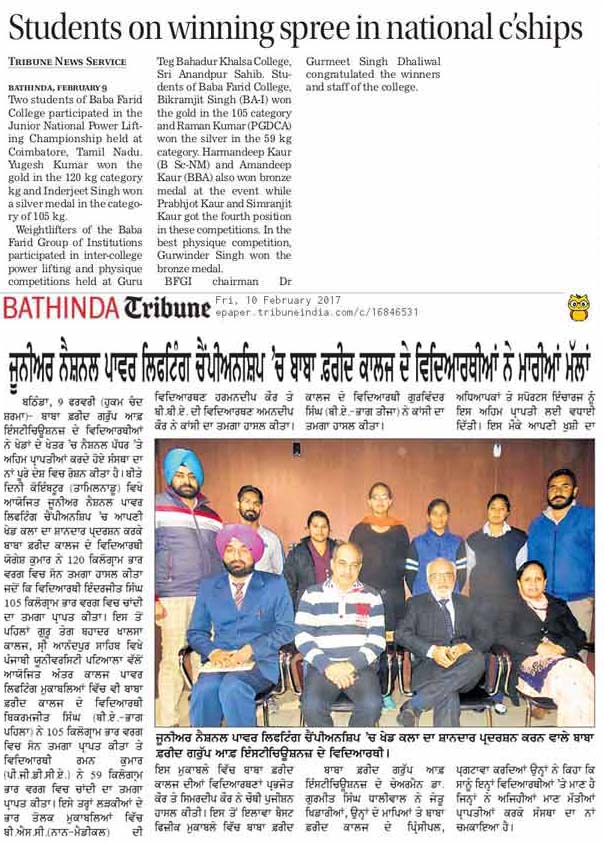 Gold Medal in Junior Punjab State Power lifting Championship 2016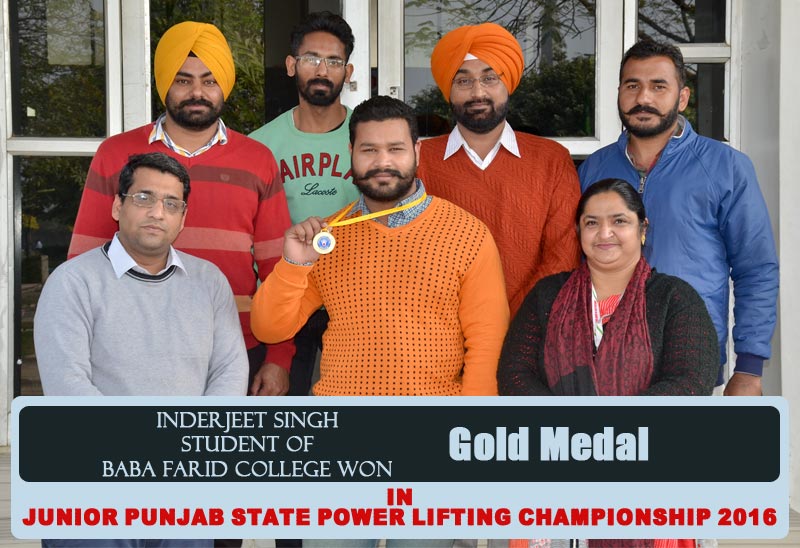 Punjabi University Inter-Zonal Cricket Tournament 2016
Baba Farid College, Bathinda has won Punjabi University Inter-zonal Cricket Tournament 2016 defeating Mata Gujri College, Fatehgarh Sahib in the Finals. For showing excellent performance in the tournament, six students of Baba Farid College are selected for Inter-Varsity Championship.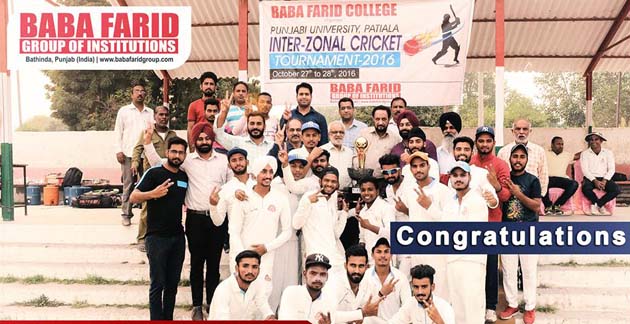 Bronze Medal in Inter College Wushu Championship
Dilpreet Singh student of B.Sc. Biotechnology 3rd sem. of Baba Farid college, Bathinda won bronze medal in "Inter College Wushu Championship" organized by Punjabi University, Patiala on 2nd-4th Sep, 2016 in university campus. This was the first time that the university has introduced an Inter College Wushu Championship. Number of colleges participated in this championship. Dilpreet Singh participated in weight category below 70 and he got the bronze medal after winning two matches. Dr.Gurmeet Singh Dhaliwal (Honorable Chairman BFGI) congratulated the student and his parents for this success and also motivated him to participate more in these types of championships. Mr. Manish Bansal (Vice principal, BFC), Ms. Ranbir Kaur (DSW, BFC) also congratulated him and wished him good luck for his future success.

NEWS

Baba Farid College Cricket Team Won Zonal Cricket Tournament of Punjabi University, Patiala(Held in Sept, 2015)

Studens of Baba Farid College of BFGI won 2 gold and 1 silver medal in Punjab State Senior Power Lifting Championship

BFC Students wins 7 Medals in Inter-College Power-lifting & Weight-lifting Tournament