PG Labs
There are three labs and one air conditioned instrumentation centre. The department has good instrumental facilities like Automatic Polarograph, Polarimeter, Flame Photometer, UV Visible Spectrophotometer, Refractometer and many more to provide students with practical and theoretical experience of relating their theoretical knowledge with the practical work.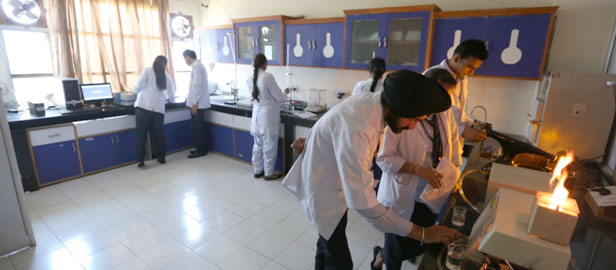 Each lab is well equipped, ventilated and fumeless and can comfortably accommodate 35 students. Chemistry department is connected with "Green Chemistry centre of American Chemical Society". Besides chalk and talk method of teaching, power point illustration of experiment is also carried out.
Research projects are given to the students of PG classes.

UG Labs
UG labs are also well equipped, ventilated fumeless. Instruments like conductometer, pH meter, potentiometer and colorimeter are available in labs. Each lab can accommodate about 40 students comfortably. All safety measures are provided in the labs.