Earth Day celebrated in Baba Farid College
Earth Day is an annual event, celebrated on April 22. It was first celebrated in 1970, and is now coordinated globally by the Earth-Day-Network and being celebrated in more than 193 countries each year.NSS Unit, Baba Farid College Bathinda celebrated Earth Day with enthusiasm.
Students and staff members took pledge during the occasion. Under guidance of Ms. Sukhjinder Kaur, Deputy Dean NSS, Volunteers displayed posters to aware the students about earth and awareness about conserving natural resources. A quiz competition was also organized to make interest of students for saving earth. Prizes distributed to students for good answering. Lovepreet Singh and Harjinder Singh NSS Volunteers delivered speeches on this special day to motivate other students and save the earth by their individual efforts.
Dr. Valentina Chauhan and Mr. Vimal Kumar, Assistant Professors of Agriculture delivered lectures to aware the students and to control the pollution. They said that earth is living planet, because it has water, good atmosphere, favourable climate conditions and suitable to live plants and animals. Also it has protective equipments like ozone layer and magnetic field and natural cycles like water cycles, nitrogen cycles, etc. Earth's temperature is not most hot and cold compared to other planets and earth is only a planet where life is going on smoothly so we say that earth is only a living planet.

B.D Sharma, Deputy Director Activities BFGI said that God has created the universe with infinite wisdom and power and designed the earth especially for human life. We should respect and maintain everything we get from our mother earth. We should save the mother earth so that our future generations can live in a safe environment. We can save the earth by saving trees, natural vegetation, water, natural resources, electricity, etc. We should strictly follow all the possible measures to control the environmental pollution and global warming. Everyone should plant more trees in the surrounding areas to curb the pollution and reduce the effects of global warming.
Dr. Gurmeet Singh Dhaliwal, Chairman BFGI said that Mother Earth has everything to fulfill man's needs which make the Earth a living planet. So we should aware to save earth and to control the pollution. At the end Students took oath to save earth by plantation and control pollution. Ms. Ranbir Kaur Brar, DSW BFC thanks the speakers and appreciate the students to make this event successful.
Seminar on Civil Services on 12 April, 2017
The department of School of Competitive Studies of Baba Farid Group of Institutions organized Seminar on Civil Services on 12 April, 2017. The Keynote speaker was Ms. Sakshi Sawahaney IAS, SDM, Bathinda. This seminar was arranged for the students of B.Sc(Biotech/Medical/Nonmedical) Final year. The Key speaker in her address inspired the students and teachers through her motivational talks and tools. She invited the students to adopt an optimistic approach towards life because the determination to win is to have hope and confidence. The students should have tools of self trust, participation, determination and awareness in them. The auditorium was replete with more than 300 students. Her persona touched, moved and inspired all. She shared her own experience and satisfied the queries of Students regarding Civil Services. Through this lecture and interactive discussion the students will be optimist towards their life goals and will be able to determine their milestone in life.

Academic Excellence Award 2016
The Academic Excellence Award provides an opportunity for BFGI to annually recognize the excellent performers in Sports, Culture and Academics.Every Year 100's of students are honoured for their outstanding performance in Sports, Culture and Academics and this year was no exception, a total of 440 students of BFC & BFCMT including 20 students of Cultural events, 23 students of Sports, 56 Merit positions holders and 341 those students who have secured more than 80% in the university results were honored by the Chief Guest with Cash Prizes of worth more than 20 Lakhs.
Chief Guest of the event Prof. (Dr.) Baljeet Singh Sidhu, Controller and Finance Officer, Punjabi University, Patiala motivated the students with his speech and said that Success comes to those who does the Hard Work and stay determined towards their goal. Dr. Sidhu also appreciated the role BFGI is playing in providing quality education to 11000 students in various disciplines and termed BFGI as one of the leading institution of this region.
Guest of Honor, Prof.(Dr.) Satnam Singh Sandhu, Punjabi University, Patiala congratulating the students stated that the success of the students is the real success of any Institution and appreciated the efforts of Hon'ble Chairman, BFGI Gurmeet Singh Dhaliwal as an Educationist providing quality education and bringing excellent results year after year in this region.
It was treat to watch the brilliant minds of BFGI under one roof today who made us proud with their outstanding achievements in the session 2015-16.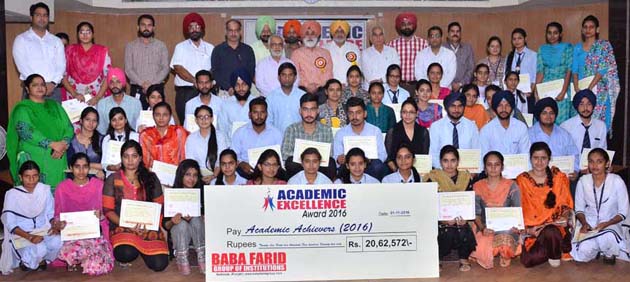 Glimpses from the Mehandi Competition on the occasion of Karva Chauth

Painting Competition
Painting Competition on the theme "Wings" where students were given a platform to think with an open mind with the widest horizon and imagination. Students participated enthusiastically in the event and they showcased their talent with spectrum of colors.The Best paintings will be featured in the upcoming College magazines.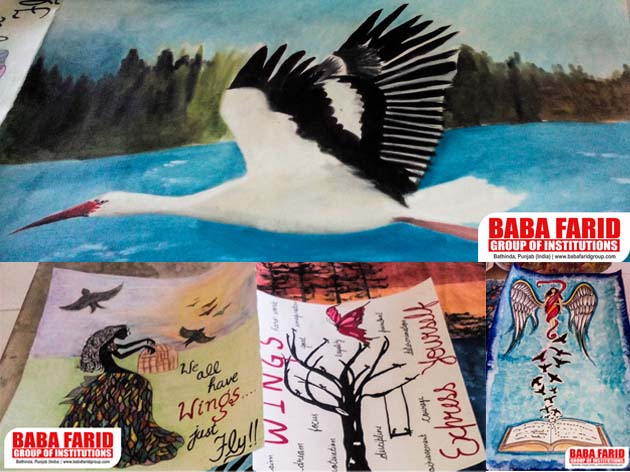 Rakhi Making Competition
| | |
| --- | --- |
| Raksha Bandhan is one of the most endearing ways to celebrate the bond between brothers and sisters, a bond which is one of the deepest and noblest of human emotions. To celebrate the same an interdepartmental 'Rakhi Making Competition' was organized by Baba Farid College, Bathinda on 16th August, 2016. The students enthusiastically participated in the competition and came up with very creative ideas. The competition saw a number of creative and colorful rakhis being made by the students. The rakhis that were made were fusion of modern with traditional styles. They were judged on the basis of neatness, creativity and effort put in by the students. The designs were so creative and fascinating that it was very difficult to come out with a single winners list. Yet, in the final assessment the first place was shared Kamaljeet kaur (M.Sc. Maths, Sem III) and Tanbir Kaur(B.Sc. CSM, Sem V) the second place went to Raspreet Kaur (B.Sc. Medical, Sem I) and the third place was won by Sandeep Kaur (B.Sc. Biotechnology Sem III). | |
Western Dance Competitions "LET'S DANCE"
On dated 13 Nov, 2015, Baba Farid College organized a western dance competitions "LET'S DANCE" for all the students of BFGI. This event was basically designed for the preparation of the Major event of the upcoming event of BFGI "Vibgyor 2016". The Students from various departments participated in the competition. Lot of talent was explored from the students in the form lyrical, hip-hop ,locking and popping, contemporary and MJ style and various dance forms. The first prize was bagged by Akshay Bhardwaj from B.Tech (Electrical) 7th Sem,Second was bagged by Ramanjot Singh BSc. Non Medical 1st Sem and third position by was shared between Asha Kumari Poonia B.Tech CSE 5rd Sem and Abhilash Mottan B.Tech Mechanical 3rd Sem.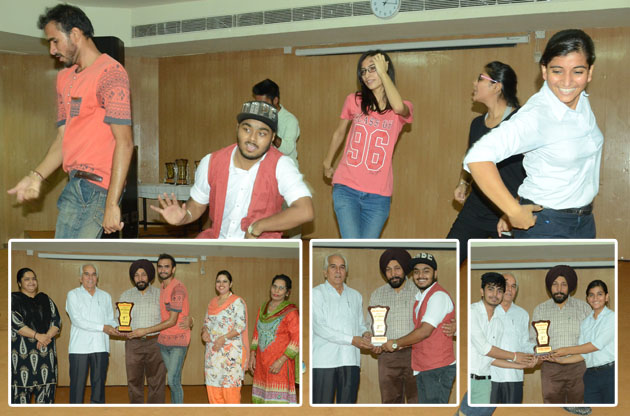 'LE SCIENZE' INTER COLLEGE COMPETITIONS
Extracurricular activities play a vital role in the overall development of students. In order to provide them an opportunity to showcase their talent and innovative ideas Chemistry and Biotechnology Departments of Baba Farid College organized an Inter College Competitions named "Le Scienze 2016" including competitions like Quiz, Poster Presentation, illustrations and Science Models from waste material on March 31, 2016.Such activities helps students to understands the importance of logical thinking, time management and intellectual competence. Students from various colleges affiliated to Punjabi university and Panjab University like S.D College, Barnala; D.A.V College, Malout; University College, Jaito; Malwa College, Kotkapura; Govt. Brijindra College, Faridkot; Govt. Rajindra College, Bathinda ,D.A.V College, Bathinda and other colleges of Baba Farid group of institutions participated actively. More than 170 students from different courses and colleges proactively participated in various activities to showcase their innovative ideas. In Quiz Competition we had audio/video rounds and all the topics covering the current affairs as well as general knowledge. Topics for the poster presentation and illustration were Environmental Science, Nano Science, Polymers, Material science, Inter disciplinary Sciences and Green Chemistry. Students participated with great zeal.
In Quiz we had three participants in each team and the team of Maumita Ghosh (B.Sc. Biotech IInd year BFC) , Harwinder Singh( B.Sc. NM IIIrd year BFC), Shallu Garg ( B.Sc. CS IIIrd year, BFC) stood first followed by and Deepinder Singh (B.Sc. Biotech IInd year, BFC), Anmol Verma ( B.Sc. Biotech Ist year, BFC) and Mamta Rani ( B.Sc. Biotech Ist year, BFC); (Sourav Goyal( B. Tech ECE 2nd yr, BFCET), Nitin Garg( B. Tech ECE 2nd Sem, BFCET), Md. Afzal Alam Tafadar (B.Tech ME) they stood second and third respectively.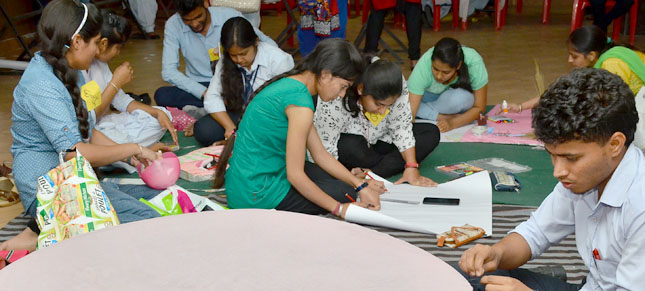 Poster and Illustration Presentation was judged by Dr. Meenu (Assistant Prof. Modi college Patiala) and Dr. Paramjeet Kaur (Assistant Professor, DAV college Bathinda).In these competitions Komal Rani (M.Sc. Ist year Chemistry, BFC) bagged first prize ; Pankaj and Vijay Kumar (M.Sc.Ist year Chemistry , BFC ); Rachna ((M.Sc. Ist year Chemistry, BFC) got second and third positions respectively.
The Judges for the competition "Science Model Out of Waste Material" were Dr. Meenu (Assistant Prof. Modi college Patiala) and Dr. Himani (Assistant Prof. SD College Barnala).In this competition first prize was bagged by Mehak Verma (B.Sc. BT IIIrd year, SD College, Barnala) followed by Gagandeep Kaur (B.Sc. BT Ist year, SD College, Barnala) and Mandeep Kaur (B.Sc. Medical IInd year, BFC) they stood second and third respectively.
It was really a tough job for the judges to declare the winner list of all the activities occurred because of the competence level of all the participants. The Competition was graced by Dr. W.S. Brar (Principal BFC), Mr. H.L Jasuja(Dean Science), Ms. Ranbir Kaur(Dean Student Welfare, BFC)