Trip to Jodhpur and Jaisalmer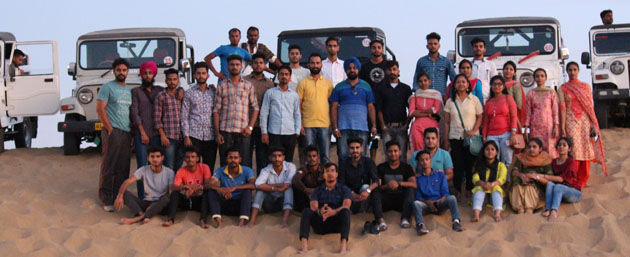 BCA Students got historic and cultural information about jodhpur and jaisalmer cities of rajasthan. They enjoyed a lot on trip from 18th Oct to 22nd Oct, 2018. Firstly, they visited Umaid Bhawan at Jodhpur to explore history of the palace. Umaid Bhawan Palace is the last royal palace built before the Independence of India. The grand property houses a museum. Open for all, here are some marvelous specimens. The museum has exhibits of glass, porcelain wares, memorabilia, and information on the building of the palace. The unique allures are the stuffed leopards, an enormous symbolic flag gifted to Maharaja Jaswant Singh by Queen Victoria in 1877, an impressive collection of clocks in interesting windmill and light house shapes, and photographs of the graceful art-deco interior of the palace. The classic cars of the Maharajas are also on display. A part of the museum, Darbar Hall, has elegant murals, miniature paintings, armors and a rare collection of expensive household paraphernalia of 1930s.
After reaching at Jaisalmer, students visited Gadi Sagar Lake. Gadi Sagar Lake is a rain-water lake of the city. The calm and cool surrounding of this place was made their day. The crystal clear water of this lake is ideal for boating. Many beautiful temples and holy shrines can also be seen over there.
A lot of sunshine and a never ending sleek stretch of sand is what makes the desert of Jaisalmer an ideal allure for travel enthusiasts. Afternoon, students enjoyed jeep safari. This is most popular activity taken across the unexplored beauty of the thar desert with much ease and comfort. Jeeps are swift and make for a fun ride along the glittering sand dunes. The fact that jeep safari is the most popular activity amid most of the tourists headed for desert safari camp in Jaisalmer, speaks a lot about it. Usually, the jeeps used for the safari are 4×4, with an open top.
Comprising all major attractions in the desert, the camel safari in Jaisalmer is the most sought after activity as you plan for a desert safari in the dunes of the 'golden city'. Students sit on the back of a camel holding on to its hump as it taken a bumpy ride across the thar.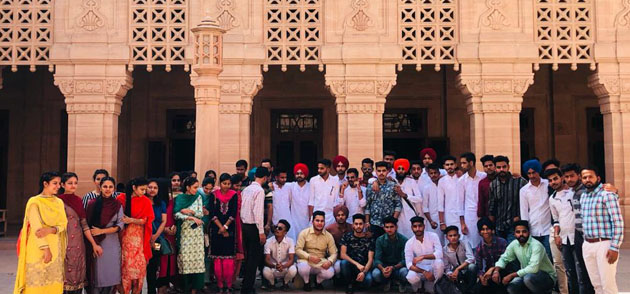 After they have spent an engrossing day fighting dust and sand across the Thar, it was time to rejoice with some refreshing dance moves and folk music in a relaxed environment.Students stayed at desert camp for one night. Musical evenings are the heart and soul of desert camps in Jaisalmer.
Next day students visited a beautiful fort is called as Sonar Quila, built with the yellow sandstone. This is an ideal place to experience the stunning look of the golden hues of the desert ambience and the amazing setting of the sun in different shades. Students also enjoyed market at this place.
All in all, Jaisalmer and Jodhpur was an ideal place to explore during the student's holidays.
One Day Trip to Jalandhar

Department of Computer Science had organized a One Day Trip from (8/4/2017 morning) to (9/4/2017 morning) to Jalandhar for the students of Msc-IT 1st, 2nd year and PGDCA. About 25 students and 3 faculty members named Mr. Amandeep Singh, Ms Navpreet Kaur and Ms Ramandeep Kaur Sidhu had gone for this trip. Various places visited by students were WonderLand, Pushpa Gujral Science City and Haveli. At sharp 11:00am students reached wonderland. At wonderland students had a great fun and frolic of Water Park and amusement park. Disco thek that is situated in wonderland attracted the students for dance. After lunch the trip proceeded to Pushpa Gujral Science City. On reaching the science city students enjoyed the unique attractions such as Space Theatre (showing large format films on 10 times larger screen than ordinary screens), Digital Planetarium, 3D show, Climate theatre, E. simulator and Laser show. Pushpa Gujral science city offered a blend of education, curiosity and fun to students. By this visit to the science city, students understood the wonders of science in the most pleasant and entertaining manner. At last students had dinner at Haveli. Students enjoyed this trip very much.
Industrial Visit to TCS iON Partners Company on 31-10-2017
The Department of Computer Science, Baba Farid College has organized a one day Industrial visit to "TCS iON Training Partners", (Mohali) on 31st Oct. 2017 for the students of M.Sc-IT 3rd sem and BCA 5th sem under the supervision of Dr. Tejinder Singh,Miss. Satinder Kaur and Miss. Navpreet Kaur. The main agenda of this visit was to provide information regarding soft skills required for placement in reputed companies. During this session, the Director of TC iON Partners and Head of Training & placement interact with students. They told the students about what type of questions asked and how answer the questions during interview. In this visit students enhanced their knowledge and also gained the practical exposure.
Regarding company: TCS iON Training Partners provide opportunity to B Tech/MCA/BCA students to enhance their skills and gain practical knowledge through industrial training.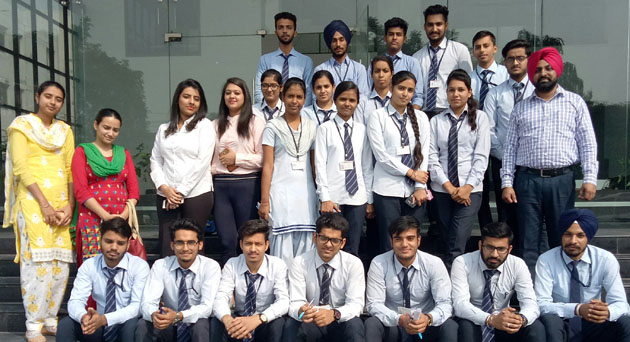 Tour to Anandpur Sahib, Virasate Khalsa and Manali
The department of Computer Science organized a tour for the students of BCA final year to visit the Anandpur Sahib, Virasate Khalsa and the beautiful valley of Manali for 3 nights and 4 days. The journey began at 6:00AM on 22nd Sept, 2016. On the way we stopped for tea and snacks. Students reached Anandpur Sahib at 12:30 PM. They paid their homage at HOLY place Shri Anandpur Sahib. After that students moved to Virasat-e-Khalsa. Virasat-e-Khalsa is a museum of the sikhism located in the holy town, Anandpur sahib. Virasat-e-Khalsa is a heritage complex is conceived as a repository of the rich heritage of the Khalsa. At 9:00 pm bus moved towards Manali.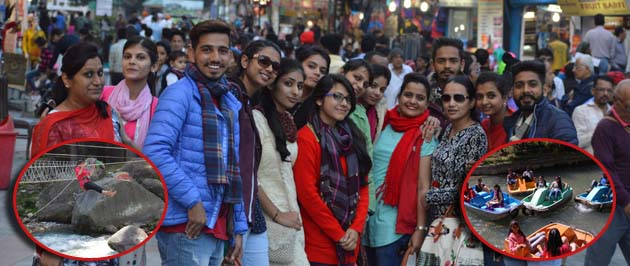 On second day students reached at Manali at 7:00 am. After having Breakfast students decided to visited the Hidimba Temple. Hidimba is an ancient temple dedicated to Hidimbi Devi (a character from the epic Mahabharata) and is surrounded by cedar forest (Dhungri Van Vihar). People worship the deity in the temple that was built in 1553. After that students went to manali market for shopping. At 7:00 pm students come back to hotel.
On third day after having breakfast students decided to visited Rohtang Valley which is an adventure site for tourists. The panoramic view of the snow capped mountains from Rohtang Valley was breath taking. Some tourists were paragliding for which this valley is famous. We prefer to enjoy the valley on foot, but it was slippery because of rain. After spending couple of hours there we came back to our hotel. At night students enjoyed on DJ floor.
On forth day students moved to Old Manali where they saw some Adventure things. Some students also enjoyed the river crossing. At 2:00pm we came back to hotel after having lunch we started our jourany back to Bathinda. On the way some students also enjoyed rafting. This tour is one of the most memorable tour for all students.
Tour to Gurgaon and Jaipur
The department of Computer Science organized a tour for the students of BCA final year and M.Sc IT final year. The journey was beginning at 6:00AM on Oct 2, 2015.Students reached Gurgaon at 1:00 PM. Students visited the Kingdom of Dreams (KOD) and Ambience Mall at Gurgaon. At KOD, students enjoyed Culture Gully. It is the arts, crafts and food boulevard. It is fully AC boulevard spread across 100,000 square feet (9,300 m2), with theme restaurants and live kitchens from 14 states of India, represented with their representative architecture and decor.
Each state pavilion's architecture has something unique. Students taste the food of different states.
On the second day Students reached at Jaipur. Firstly students visited the Hawa mehal.The Guide gave detail knowledge about history of this place. After that, students move to Jantar Mantar .The Jantar Mantar monument of Jaipur, Rajasthan is a collection of nineteen architectural astronomical instruments, built by the Rajput King Sawai Jai Singh, and completed in 1738 CE. At evening students watched movie at Raj Mandir Theatre.
On the Third day ,Students visited Jaigarh fort where they look the Jaivana cannon. it was the world's largest cannon on wheels of the Early Modern Era. Jaigarh Fort was a centre of artillery production for the Rajputs.Then students enter in Amber Fort . This palace, along with Jaigarh Fort. Students got knowledge of four courtyards of Amber Palace.
After that students went to Albert Hall museum, It is the oldest museum of the state and functions as the State museum of Rajasthan. The museum has a rich collection of artifacts like paintings, carpets, ivory, stone, metal sculptures, colourful crystal works etc. After that, The Student did shopping at Bapu Bazar. At night students enjoyed on DJ floor.
One day Tour to Jalandhar
Department of Computer Science has organized a One day Tour from(4/4/2015 morning) to (5/4/2015 morning) to Jalandhar for the students of Msc-IT 1 and 2 year and PGDCA. About 40 students and 3 faculty members had enjoyed this tour. All the faculty members, Mr. Lovenish Kumar, Miss. Navpreet kaur and Miss Satinder kaur had proper control and co-ordination with the students. Various places visited by students are Wonder Land park and Haveli. Students enjoyed this tour very much.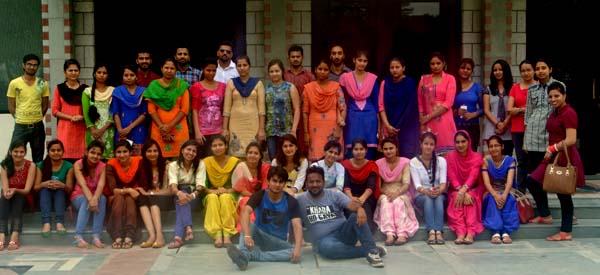 Three day Tour to Massoorie
Department of Computer Science has organized a Tour from 5/3/2015(evening) to 8/03/2015 (morning) for Massoorie, Shri Paunta Sahib, Dehradun for the students of BCA and MSc.IT. About 50 students and 5 faculty members had enjoyed this tour. First place visited by group was Shri Paunta Sahib. Then they reached Massoorie on 6/03/2015 (morning). Group went to local Massoorie market and enjoyed DJ night at Hotel .The places visited on 2nd day ( 7/03/2015) of Massoorie were Kampty Water fall & Company Garden. On Second day Evening (7/03/2015), we reached at Dehradun and at night of 7/03/2015 we had travel back to Bathinda. On 8/03/2015 (morning) we reached Bathinda. Students were so happy and they enjoyed a lot.