Tour to Amritsar, Mcleodganj, Dharamshala, Kangra and Palampur
Students of M.Sc (Physics) organized a tour to Shri Amritsar Sahib, Mcleodganj, Dharamshala, Kangra and Palampur from 16th to 19th Sept. 2016. Students with staff members started their journey at 4:00pm on 16th Sept. from BFGI Campus by charted bus and reached Shri Harmandir Sahib at about 9:00pm. After paying obeisance, all started their journey for Mcleodganj and reached hotel Misty wood in morning. After taking breakfast, group visited Dalai Lama Temple, Church, Waterfall and Sun Set Point. In evening, all reached Dharamshala and saw international Cricket Stadium, Beautiful Tea Garden, Museum and Buddhist Monastery. Dj and Dinner was enjoyed and reached hotel back. On the last day of this tour, group went to see holy places of Chamunda Devi and Kangra Devi Temple, Kangra Fort and in evening they visited Captain Sourabh Kalia Van Vihar. This tour was organized by students themselves. This incalcated the ethics of helping other, collaboration, management and team work within the students.They learnt about culture of different parts of our country. The students and staff members of Physics Department are greatly thankful to our worthy management for giving their kind permission.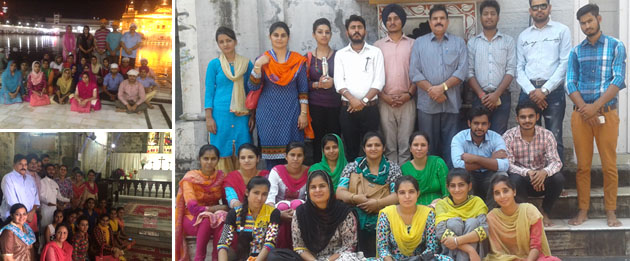 An Educational Activity - A Visit To Thermal Plant
The department of Physics of Baba Farid College (Baba Farid Group of Institutions Bathinda) organized a visit to Thermal plant Bathinda as an educational activity on dated 18/02/2016. This visit was organized by Head of Department of Physics – Prof. H.L.Jasuja. The students of M.Sc.( Physics)- I/II got fruitful knowledge about different processes related with production of electricity. All the students had great experience about all around the Thermal plant. The Students enjoyed this visit a lot and provided their positive feedback to Asst. Prof. Sumanpreet Sharma (Activity co-coordinator). At that time Head Of Department of Physics – Prof. H.L.Jasuja , Prof. Sudhir Mittal , Asst. Prof. Deepika Mahajan and Asst. Prof. Amandeep Kaur played their role to guide the students. This educational visit was very successful.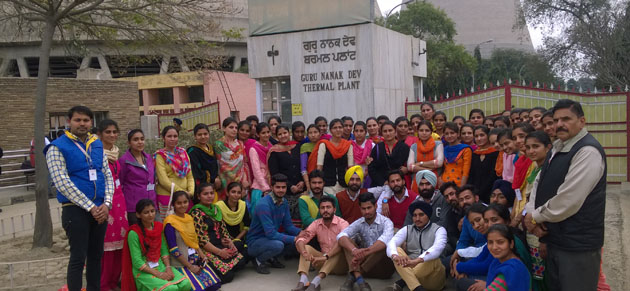 Shimla and Kufri Trip
The Shimla trip of M.Sc. Physics students remained an exciting and memorable tour in the valley of mountains from 30th Oct. to 01st Nov. 2015. Students of M.Sc. 1st and 2nd year enjoyed the beauty of Shimla and Kufri. It was three days tour organized by the students itself, in which a total 24 Students and 4 faculty members travelled. On the first day of this tour we visited highest peak of Kufri region. Students enjoyed horse riding while climbing and returning the mountain. We were able to see the China boarder from the cliff of Kufri. On the same day in evening we roamed around the Mall Road and Lakkar Baazar of Shimla, where students purchased gifts and memorable items for their family and friends. Next day we went to FunCity, Chandigarh, here the students enjoyed exciting rides and boating. The student also enjoyed the fun of pool and water rides with in water park of FunCity. It was not only an amusement trip rather the students also visited devotional places Naina Devi temple and Gurduwara's "Anandpur Sahib, Nada Sahib and Thanda Burj. I shall conclude that it was an educational trip also in which students visited "Virasate Khalsa" and get acquainted with the enriched Sikh culture. Moreover, this trip inculcated the ethics of helping others, collaboration, management and team work within the students.
The student and staff members of M.Sc. Physics are greatly thankful to Deputy Director Academics and Chairman BFGI for giving their kind permission for this tour.